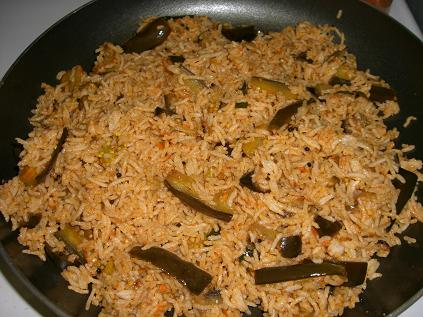 Description A spicy rice dish with eggplant
Ingredients
1/4 cup oil
1 tsp mustard seeds
1/2 cup grated coconut
1/2 tsp turmeric powder
salt to taste
1Â cup onions cut lengthwise
2 cups brinjal cut lengthwise
2 green chillies cut lengthwise 
a few curry leaves
2 cups rice ( uncooked)
"Powder" —
2 tsp Dhaniya seeds
5 red chillies
2 tsp black gram dhal
1/2 cup bengal gram dhal
1 tsp jeera
1/4 methi seeds
Dry roast all the above ingredients and grind to a fine powder
 
Method Of Preparation
Heat the oil in the kadai, add mustard seeds and curry leaves.
When the mustard seeds splutter add the onions and saute them till they turn brown.
Then add the brinjals and green chillies. Add the turmeric powder and salt and cook till the brinjals are done.
Add the powder and coconut and saute for another minute.
Cook the rice separately and cool slightly.
Add the rice to the brinjal and mix well.
Serve with raitha.
You Should Also Check Out This Post:
More Active Posts: